We are better for the planet compared to beef.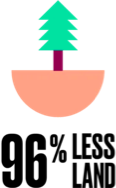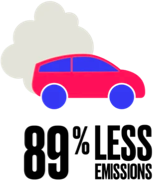 OUR STORY
Meat made from plants.
We discovered what makes meat taste like meat. Then we figured out how to make meat from plants. Delicious and better for you and the planet.
Impossible Burger is made from plants, for people who love meat, and cooks like ground beef — and now it's more affordable than ever.
OUR PRODUCTS
Meals cooked with Impossible
™

for you.
MEET IMPOSSIBLE
Small actions, big change.
What's the most effective way to reduce your environmental footprint? That's right -- adjusting your diet can be better than getting solar panels, driving an electric car, or avoiding plastic straws.
We make delicious meat, fish, and dairy products, from plants, so you can eat what you love, and save the planet that you love. Small actions lead to big change.
RECIPES
Inspiration for your next dish.
Save the planet, one delicious meal at a time. Check out these recipes!